If you follow me on Twitter you probably know that I've been sifting through many years of reports from the California Department of Education and the Commission on Teacher Credentialing to learn about California's supply of teachers. Since I've been generating a number of charts, I thought I'd put them all together in one place.
First, for some context, here's California's K-12 student enrollment. Between the 1997-98 and 2004-05 school years, student enrollment increased by about 10% and has been roughly flat since. There are now approximately 6.2 million students in California's K-12 system.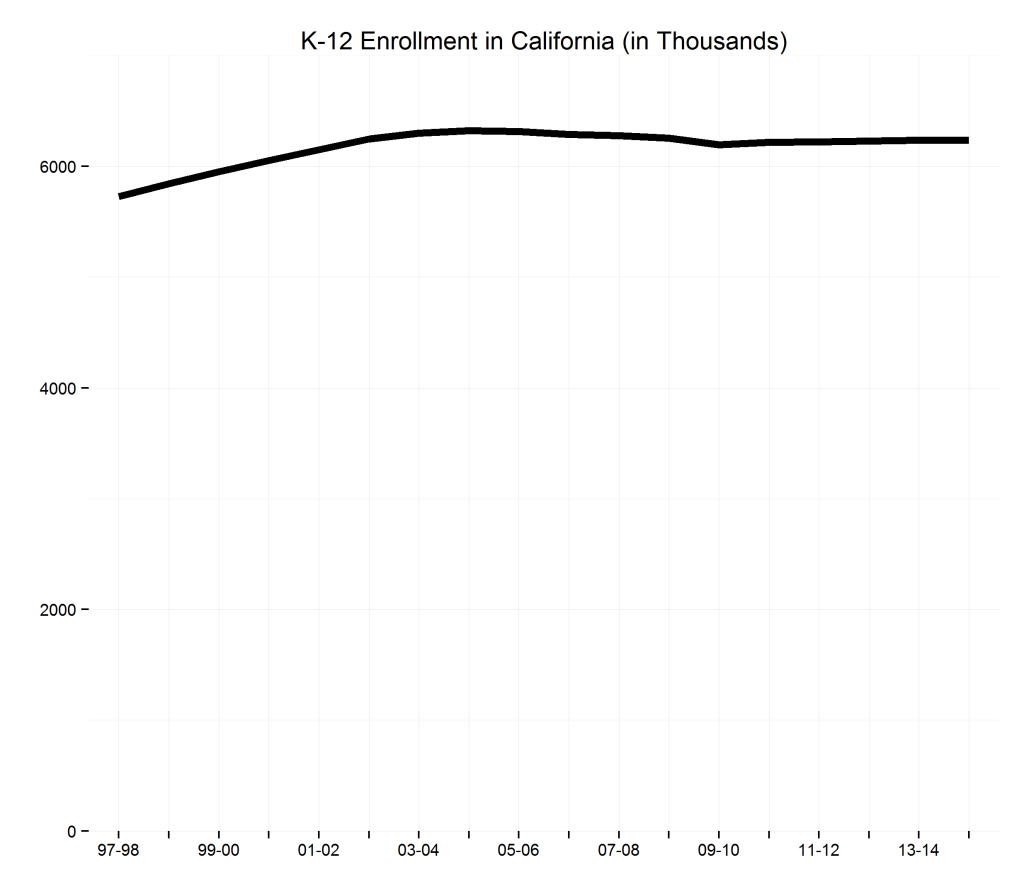 California hired more teachers as enrollment grew, and eventually cut back right around the time of the recession. Last year there were roughly 295,000 teachers in California's public schools.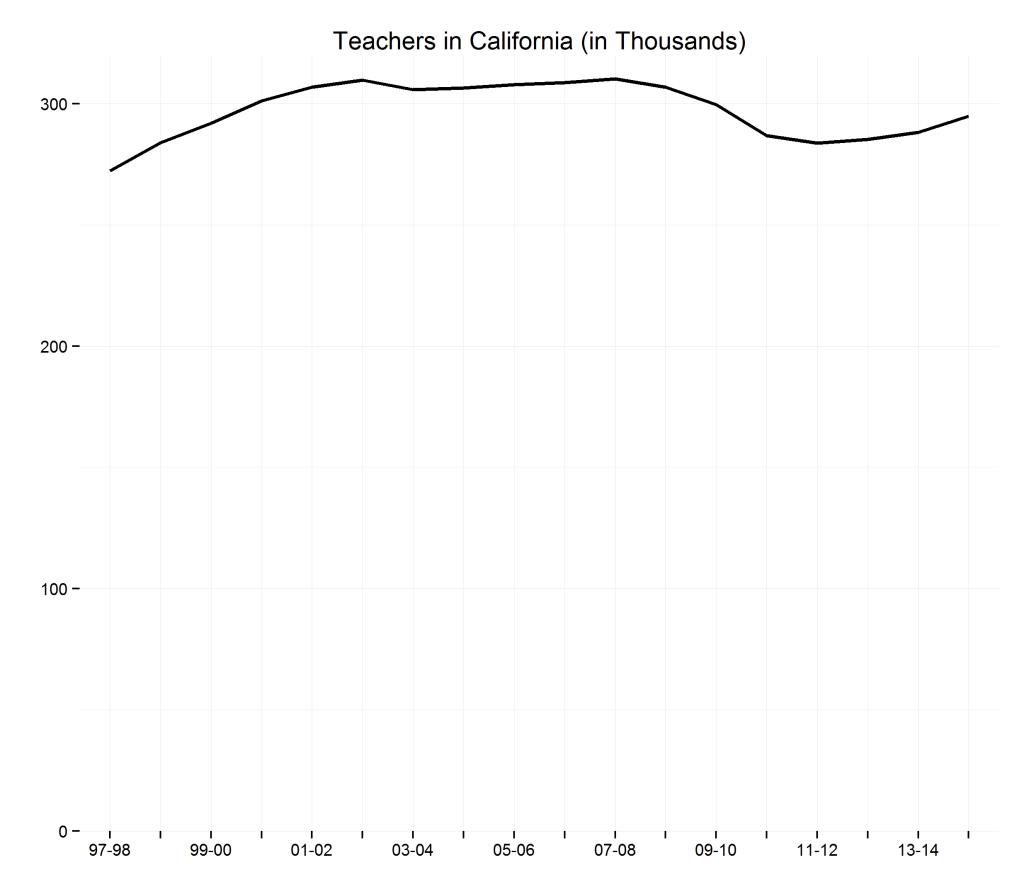 As enrollment and hiring has ebbed and flowed, the ratio of students to teachers in California has oscillated between 20-22.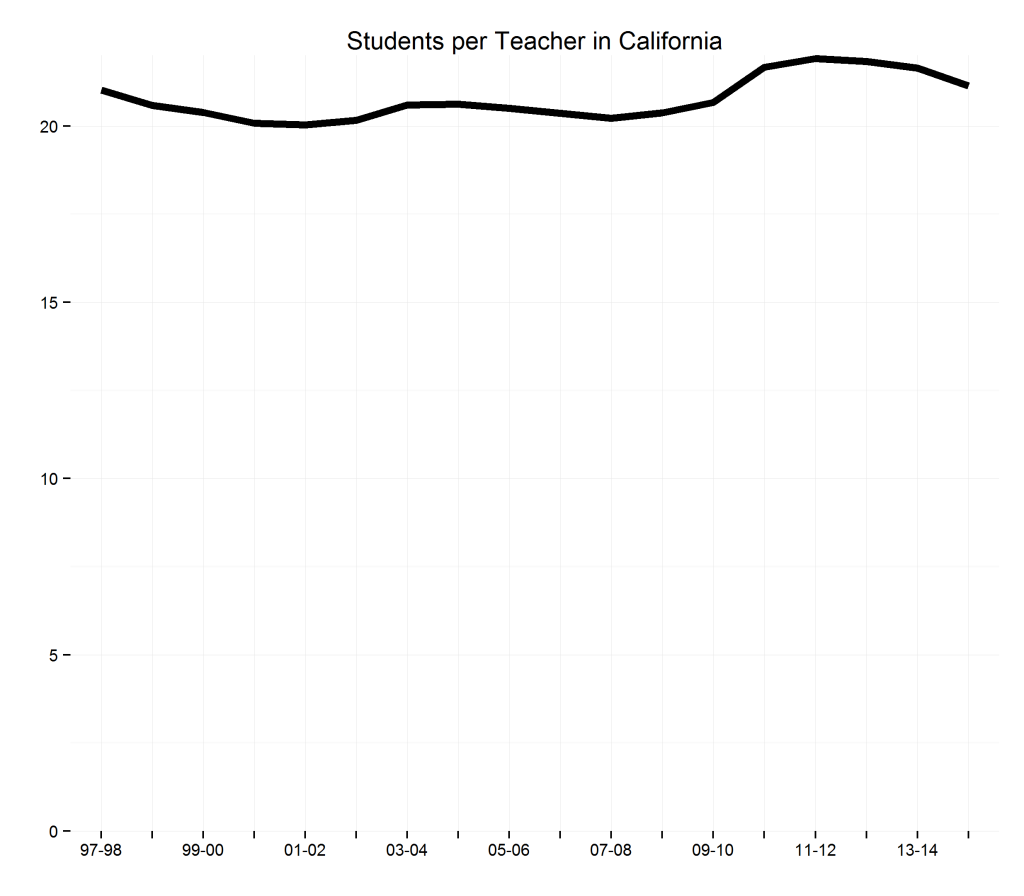 At the same time, student demographics in California have changed substantially, with the proportion of white students steadily falling while Hispanic/Latino students became a majority.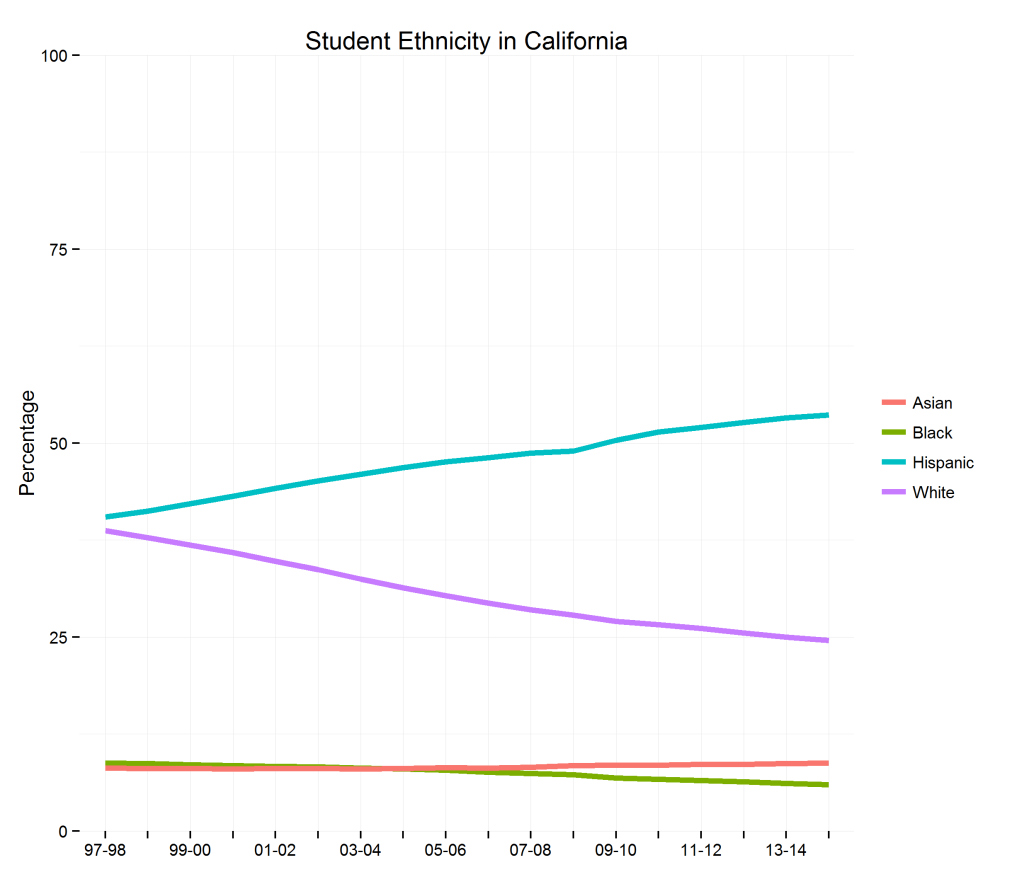 Teacher demographics in California have changed somewhat as well, with white teachers becoming somewhat less common and Hispanic/Latino teachers somewhat more common.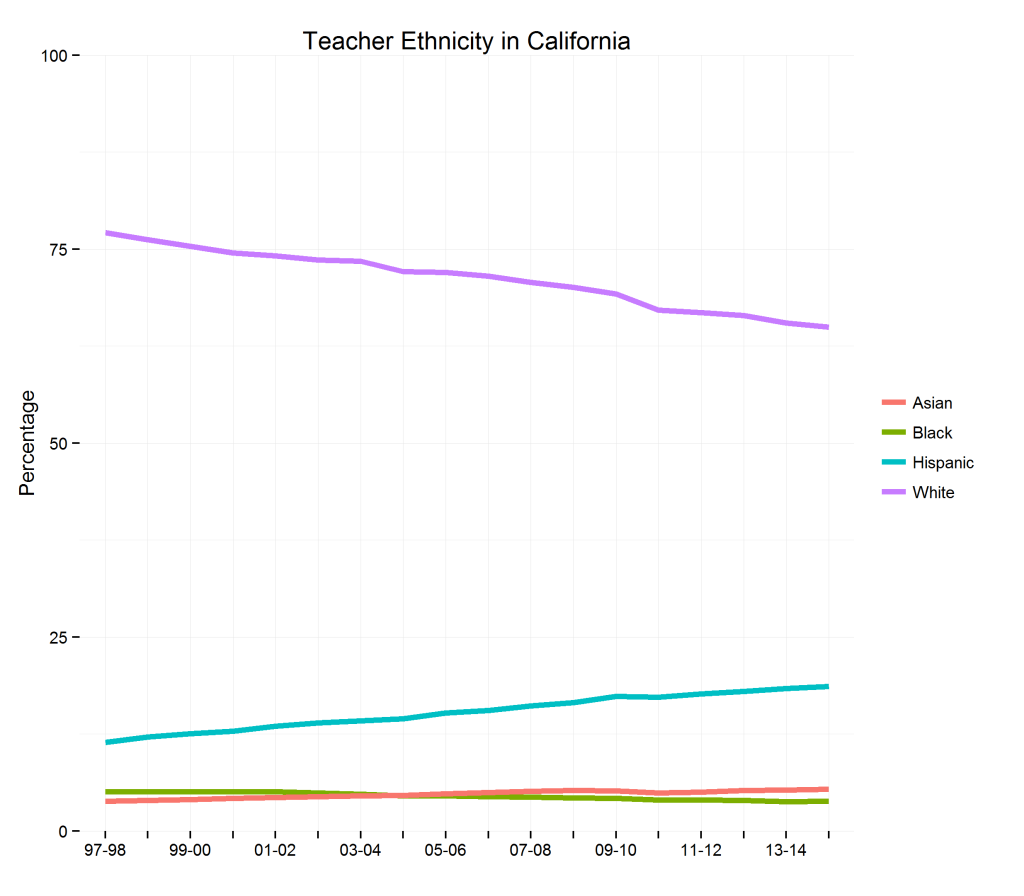 The teaching force in California nevertheless remains much less diverse than the student population. Today there are roughly 8 white students for every white teacher in the state. That compares to 35 black students per black teacher (about the same as for Asian students & teachers) and 63 Hispanic students per Hispanic teacher.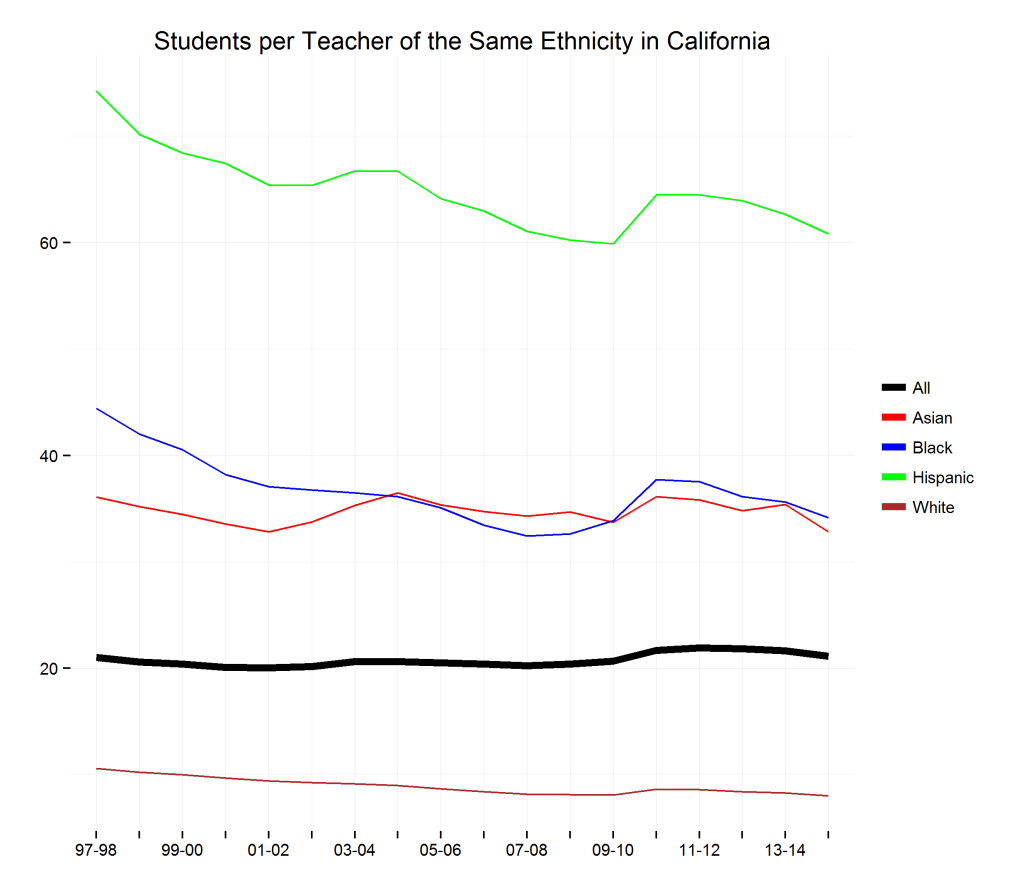 Shifting gears to the size of the new teacher supply in California, the first and most striking fact is that the number of new credentials issued in California has fallen for each of the 10 most recent years for which data are available. The 14,810 credentials issued in 2013-14 represent a drop from the high in 2003-04 of 53%. This includes traditionally-certified teachers, teachers in intern programs (like Teach for America) and teachers converting their credentials from other states.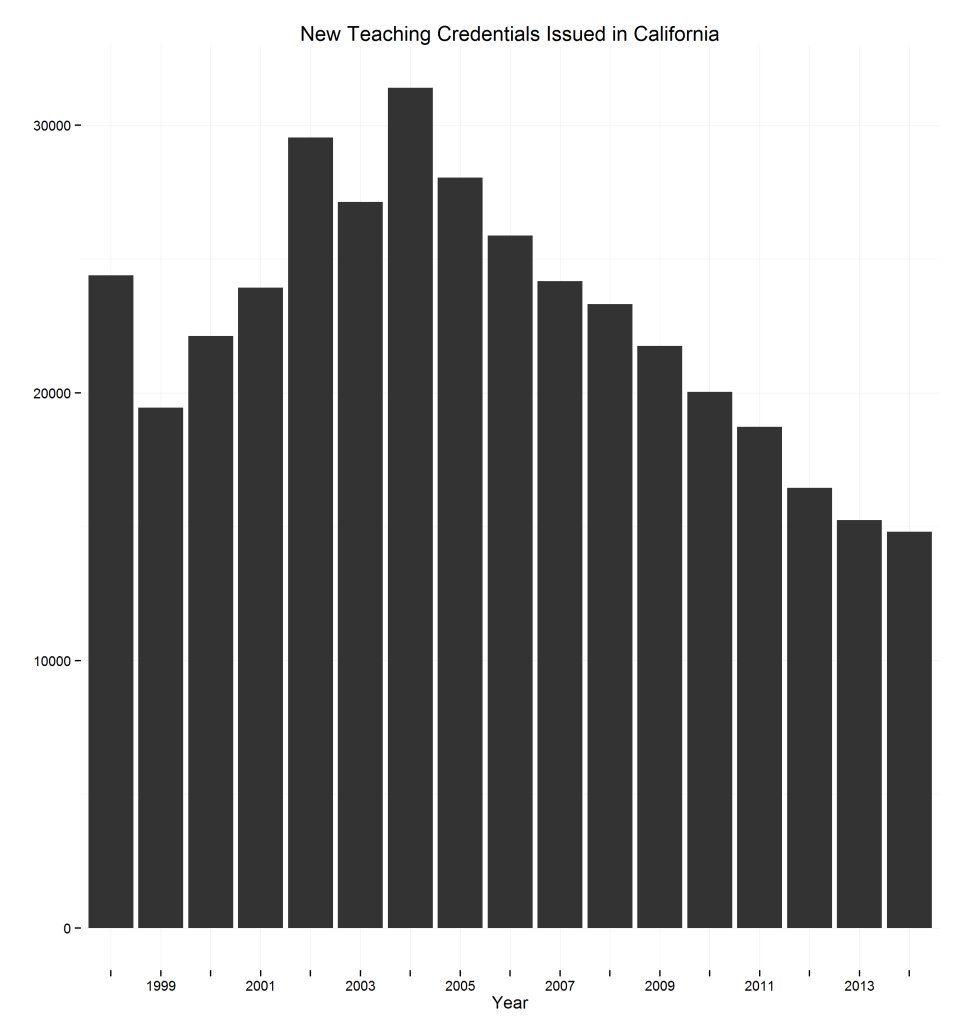 (I recently heard Linda Darling-Hammond say that enrollment in teacher preparation programs has climbed recently. She is in a position to know, but the next round of enrollment numbers probably won't be public until October, and new credentialing numbers may not be available until April or so.)
The 14,810 credentials issued in 2013-14 is equivalent to 5.1% of the existing teaching force that year. That is the lowest level since at least 1997-98.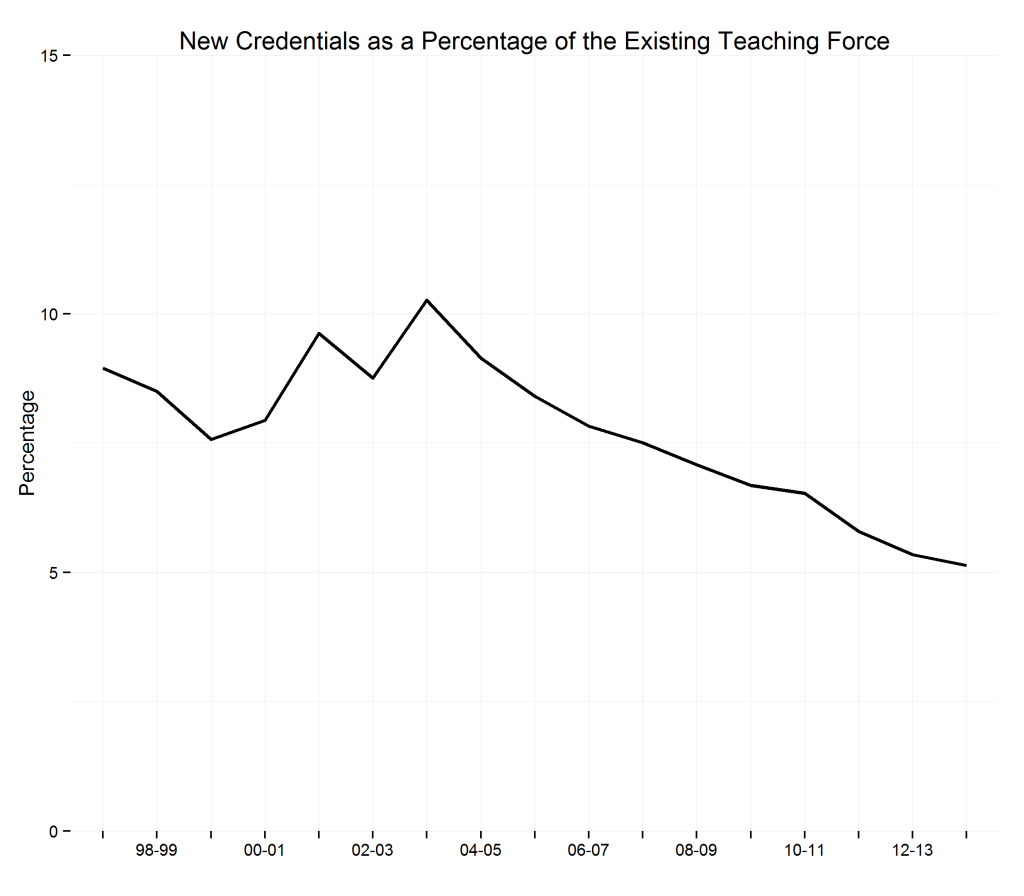 As is often the case in education, overall numbers can mask a lot of variation. If we break down credentials into three broad categories – multiple subject (elementary), single subject (secondary), and specialist (special education) – we can see that the vast majority of the drop is attributable to fewer elementary teachers becoming certified, with multiple subject credentials falling by 2/3 since 2003-04. Over the same time period new single subject credentials are down by about 40% and special education credentials are down by about 10%.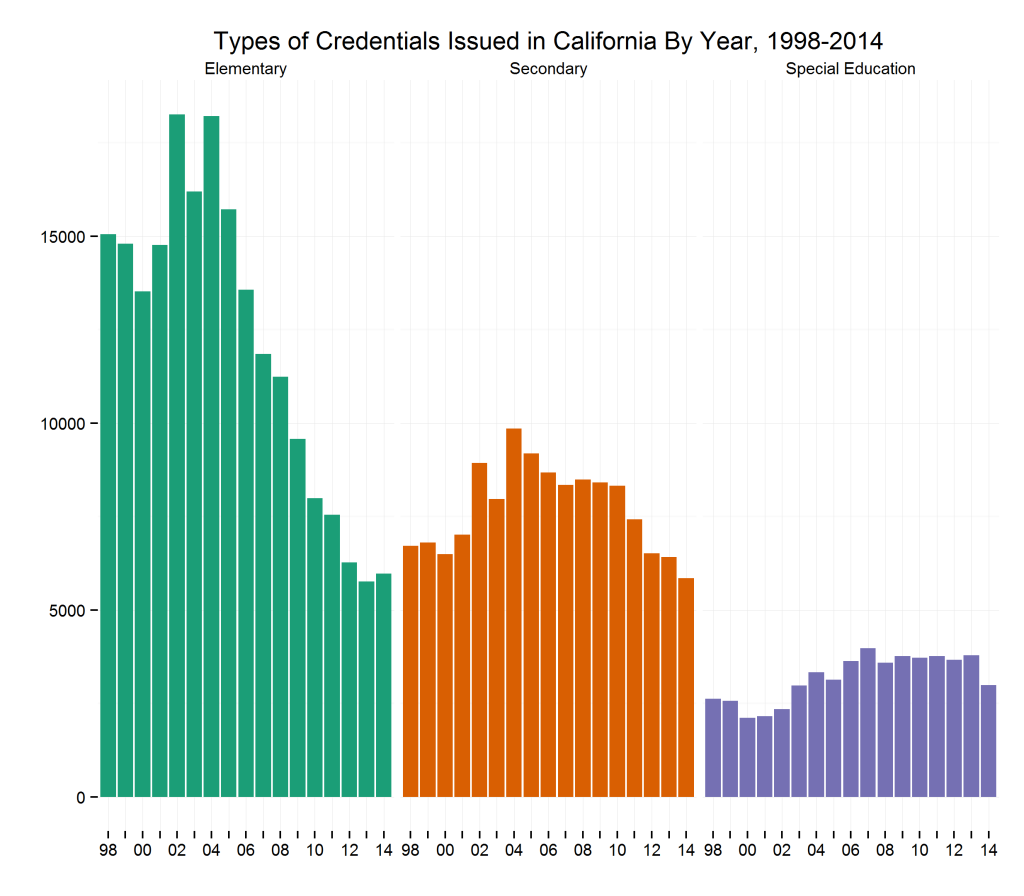 Of course, some of these categories can be broken down further still, as single subject and specialist credentials come with "authorizations" to teach specific subjects or students with specific special needs. This gets somewhat trickier with the data currently available to me, which doesn't track intern credentials by authorization until 2007-08. If we restrict ourselves to the last seven years – when intern credentials can be included in the totals –  it turns out that, at least recently, credentialing declines have been broadly similar across many common credential types. (I've indexed all values to 2007-08 so that the large number of elementary credentials doesn't stretch the y axis.)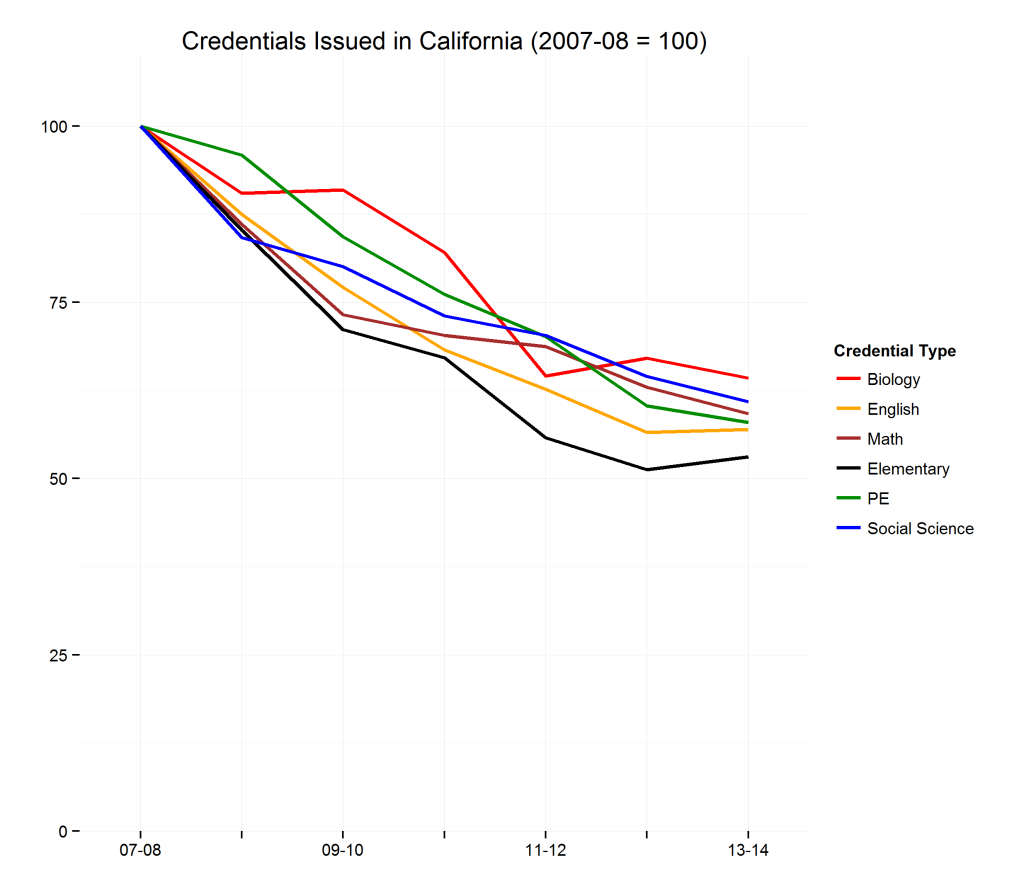 This is not to say there aren't exceptions and variation. If we look at all four categories of science credentials, for example, we can see that, at least over the last seven years, chemistry and physics credentials have not declined as much (proportionally) as biology and geosciences credentials.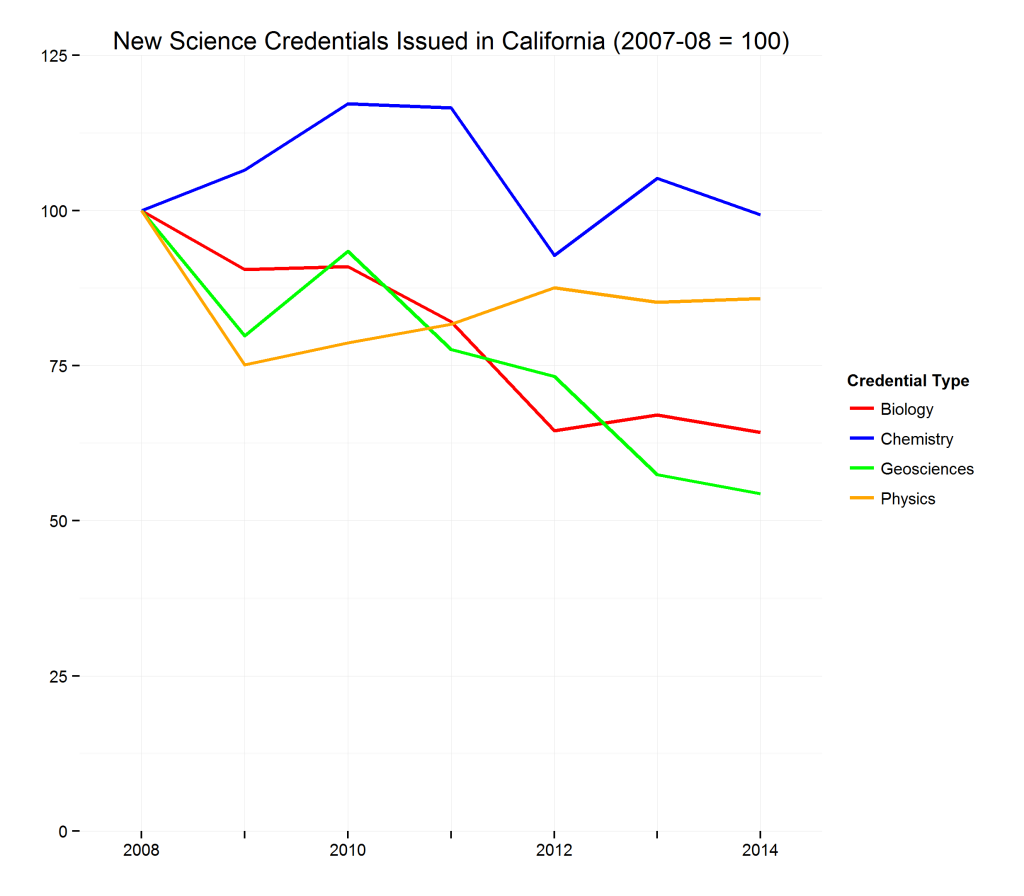 Is the decline in new teachers putting pressure on schools as they hire staff? It's very hard to generalize, particularly in a state as large as California, but one way to see if schools are experiencing supply constraints is to see how many teaching permits they are receiving from the state. There are various kinds of teaching permits, and California has changed its permit requirements over the years, but in general permits allow schools to hire teachers who are not fully credentialed in a given subject area provided that they (the school) can demonstrate that they have made an effort to find fully credentialed candidates.
California reports the number of teaching permits issued by subject area each year, and we can see that while permits for common subject area authorizations declined and almost vanished after the turn of the century, they have ticked back up in recent years.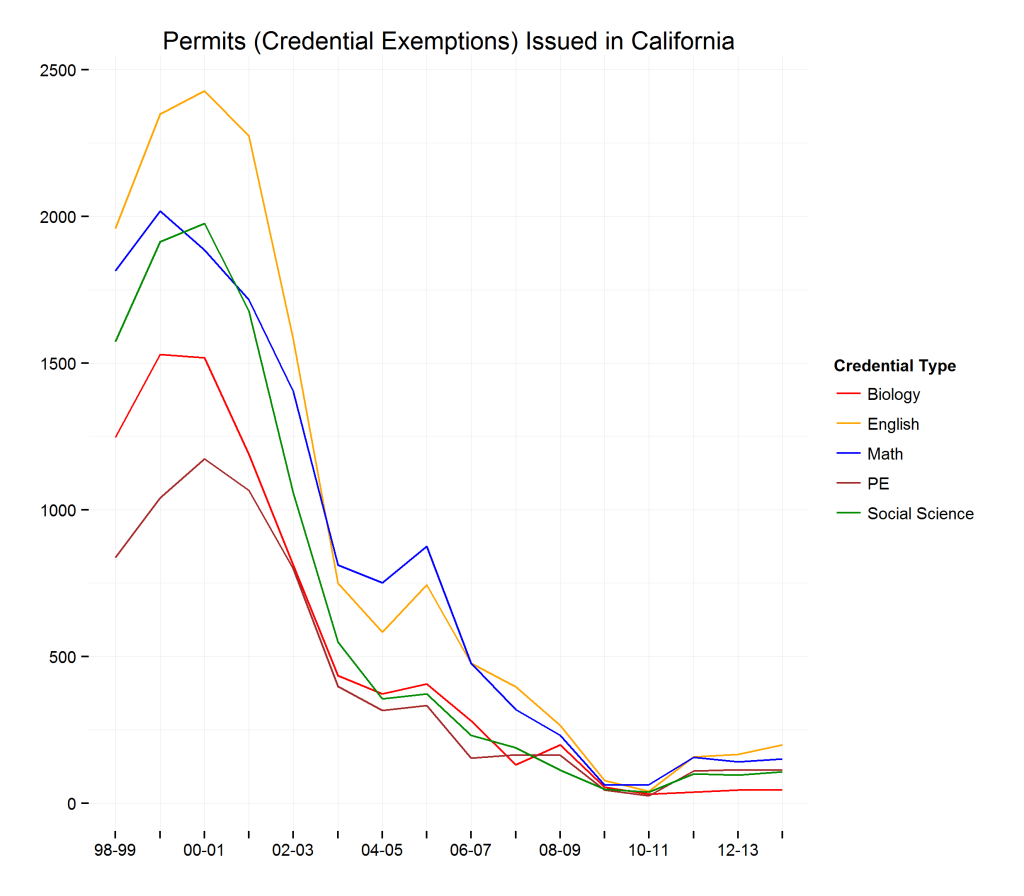 While still low in historical terms, various types of teaching permits and waivers (a rarer and more extreme type of credentialing exemption) increased between 29% and 51% last year. This may indicate that schools are having a harder time finding fully credentialed candidates to hire.
This perhaps should not be surprising since schools in California have been increasing their hiring recently, even as the number of newly-issued credentials continues to drop. Each year schools provide the state with estimates of how many teachers they will need to hire the following year. These are likely only very crude estimates of the actual number of teachers who will be hired and the number of new teachers who will be required, but it is illustrative to consider trends.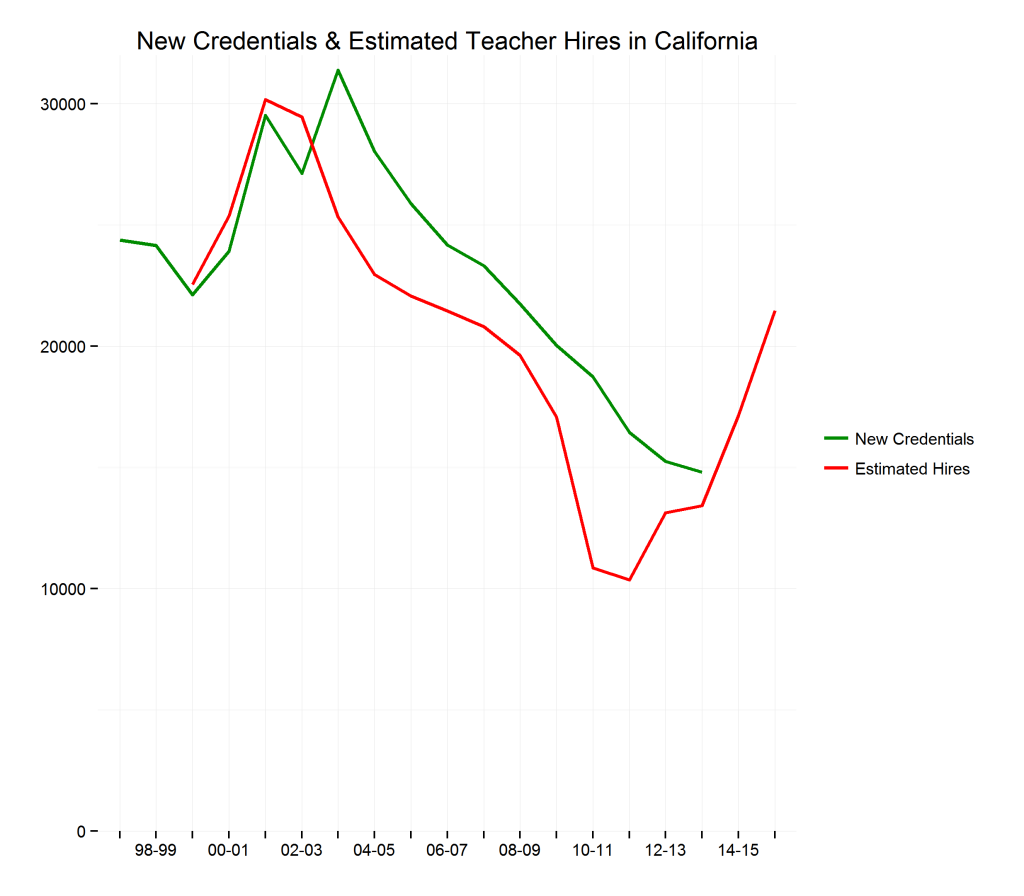 If California is going to need to certify more teachers, it is helpful to know where the state's teachers come from. Historically, the vast majority of teachers have been prepared by programs in the California State University system or at private schools. (University system figures include both their traditional and intern programs.)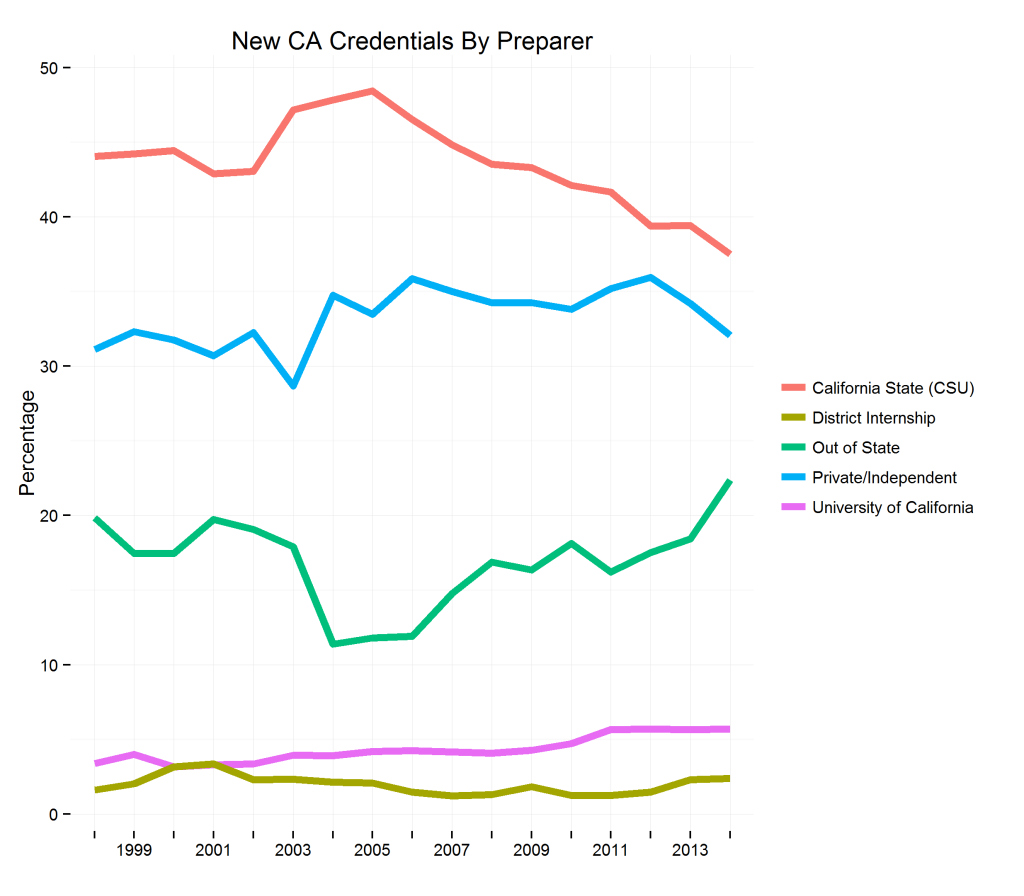 However, as we can see the relative importance of each source has changed somewhat over the years, with teachers increasingly likely to be prepared out of state or in University of California schools. This is largely because enrollment at CSU and private schools has dropped dramatically.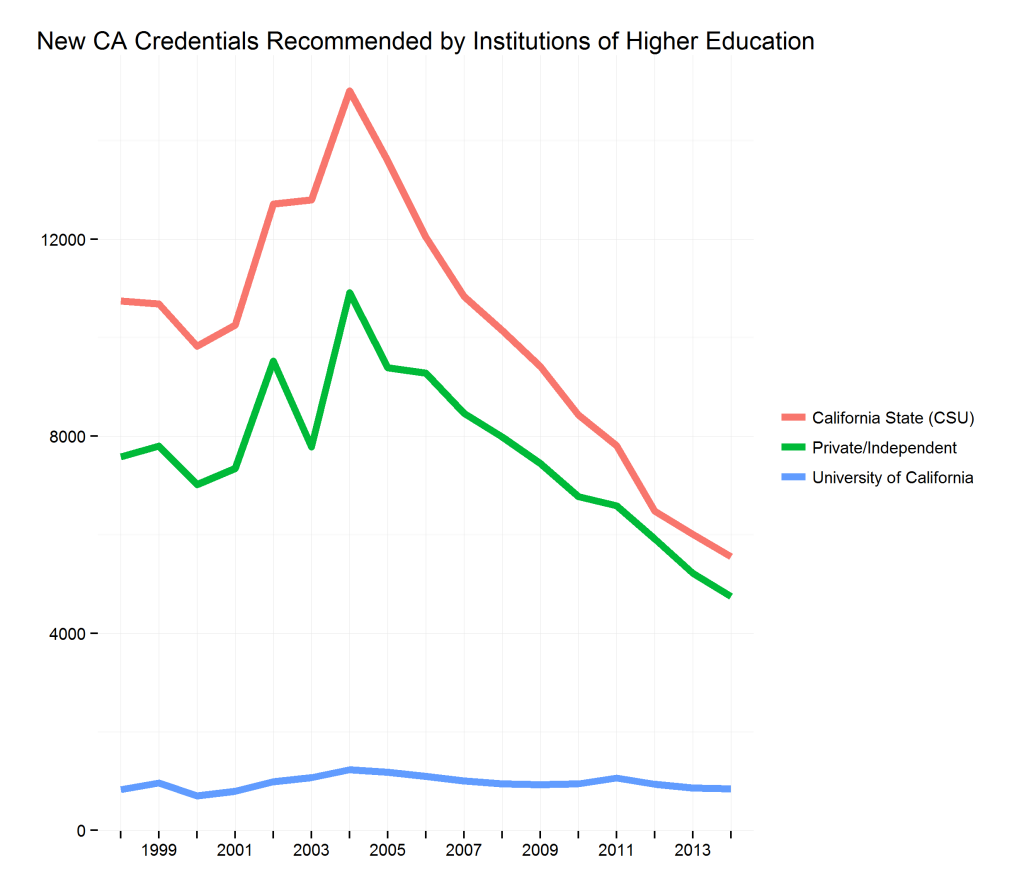 Hopefully I'll have a chance to update these charts as new reports come out in the future.