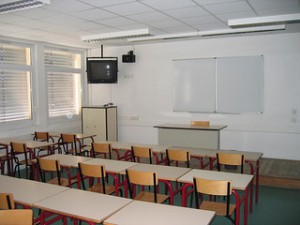 I've long had many related-but-separate complaints about 'student-centered' teaching practices. A new study in Educational Evaluation and Policy Analysis lends new evidence to several of them. (You can also check out good write-ups from Sarah Sparks and Bettina Chang.)
The authors used data on a large number of first grade students to see what strategies their teachers used to teach them math. They then looked to see whether teachers tended to use different strategies when students had stronger or weaker math skills, and then grouped these strategies together based on whether they would normally be considered 'teacher-directed' or 'student-centered'.
Their methods – including an elaborate set of statistical controls for variables like student SES and prior achievement – also allowed them to make tentative causal inferences about which teaching strategies seem to be more effective for students who were stronger or weaker in math to begin with.
The results are mostly unflattering to student-centered approaches.
Student-centered Teaching Can be a Pedagogy of Privilege.
A couple of years ago I claimed that teaching methods typically considered 'student-centered' together represent a 'pedagogy of privilege'; such methods might be good – or at least good enough – for relatively strong students, but they often do not meet the needs of students with weaker skills.
The authors of this new study reach a basically similar conclusion, at least in regards to first grade math instruction:
Controlling for many potential confounds, we also found that only more frequent use of teacher-directed instructional practices was consistently and significantly associated with residualized (value added) gains in the mathematics achievement of first-grade students with prior histories of MD [i.e., mathematics difficulties]. For students without MD, more frequent use of either teacher-directed or student-centered instructional practices was associated with achievement gains. In contrast, more frequent use of manipulatives/calculator or movement/music activities was not associated with significant gains for any of the groups.

…

An important contribution of our work is that we find that teacher-directed instructional practices are associated with achievement by both students with a prior history of persistent MD, as well as those with a prior history of transitory MD. In contrast, other, more student-centered activities (i.e., manipulatives/calculators, movement/music) were not associated with achievement gains by students with MD.
In other words, the most fortunate students will manage one way or the other but the less fortunate kids are not well-served by student-centered approaches.1
Student-centered Teaching is Attractive in Low-Skill Settings
Despite their inappropriateness for struggling students, I've also hypothesized that student-centered approaches may – paradoxically – be more favored when students have fewer or weaker skills.
My guess was that student-centered approaches can obscure skill gaps, which tend to be more salient in low-skill classrooms. When students are mostly proficient or advanced, teachers, administrators, and parents tend to have plenty of independent verification that students are skilled; ambiguous, student-centered activities are not relied on for demonstrations of mastery. With lower-skilled students, adults are more likely to be worried about their students' skills, because much of the available evidence (e.g., test scores, independent classwork) suggests those skills are absent or weak. When students engage in student-centered activities, they can easily give the illusion of proficiency – talking to one another, handling materials, and so on –  especially if you don't examine their work too closely or don't know what you're looking for.  And it's easy to interpret ambiguous evidence of learning favorably if you really want to see proficiency (as most educators do).
This new study finds evidence consistent with my theory, at least for some student-centered teaching strategies:
We found no significant relation between the percentage of MD students in the classroom and the frequency of teacher-directed or student-centered instructional activities. However, we did find that…classes of students with higher percentages of MD students were more likely to be taught these skills and with instructional practices emphasizing using manipulatives/calculators and movement/music. As reported below, these instructional activities…were not associated with mathematics achievement gains by students with MD.
Regardless of the reason, however, it seems that teachers are choosing to use less effective methods especially with those students who need the most help.
Student-centered Teaching is not Obviously Research-based
Of course, if you ask adults who favor student-centered methods, they will very often say that those methods are 'research-based'. There is some sense in which this is true, at least to the extent that you can find seemingly-reputable education studies to support almost any instructional decision.
The trouble is that a great deal of education research is ideologically-motivated, and well-controlled studies of instructional effectiveness are difficult to perform in any case. So how strong, really, is the research base for student-centered teaching?
This new study suggests it is probably not as strong as it is often made out to be:
Some types of instructional practices are commonly considered "evidence-based," and so presumably their use by teachers should result in increased mathematics achievement. For example, Baker, Gersten, and Lee's (2002) synthesis of researcher-directed intervention studies yielded a weighted ES of .66 for the use of structured peer tutoring on low-skilled children's mathematics achievement. Additional syntheses also support peer tutoring as an evidence-based practice (Elbaum, Vaughn, Tejero, & Watson, 2000; Mathes & Fuchs, 1994). Yet our estimate of student-centered instruction, which includes peer tutoring, was statistically non-significant when used with students with prior histories of MD (Guarino et al. [2013] also reported a statistically non-significant finding for peer tutoring).
The authors suggest this might be related to implementation fidelity problems with student-centered approaches, and I suspect that's a factor.2 It's also possible, though, that much of the underlying research is just not as strong as we'd like to begin with.
To be clear, nothing here demonstrates that any particular 'student-centered' approach doesn't have its place, even potentially in classrooms with large numbers of struggling students.
This study is, however, more evidence that many traditional, 'teacher-centered' approaches are often unfairly-maligned and under-utilized.
In fact, calling those approaches 'student-centered' at all seems presumptuous. [↩]
This is not exactly a ringing defense of student-centered approaches; if they are harder to implement, so much the worse for them. [↩]