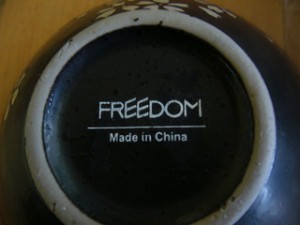 This post from Matt Bruenig has just enough educational implications for me to indulge some of my philosophical tendencies. Discussing Justin Green's complaint about anti-discrimination laws infringing on personal freedom, Matt writes:
Now ask yourself this question: can people in the U.S. refuse to engage in private commerce with anyone for any reason?

The answer is clearly yes. If you do not want to engage in commerce with, say, a black person, you are not forced to. Nobody requires you to operate a hotel, a restaurant, or any other business. If you don't want to serve a black person at your restaurant, you can refuse to do so by not opening or operating a restaurant. There is no legal penalty for that whatsoever.

We know of course what Green means. He doesn't mean that people should be able to refuse to engage in private commerce with anyone for any reason (something they already can do). He means that they should have the affirmative ability to engage in private commerce without following the rules we establish for such engagements, in this case non-discrimination rules.
Right. You sometimes see similar arguments from teachers about their own autonomy. Consider this tweet about the Common Core standards:
@1momzer@GetUpStandUp2@rweingarten@POsroff@Linda1746 if it was voluntary, I as teacher should have right of refusal. I don't.

— At the Chalk Face (@thechalkface) March 8, 2014
I don't actually know how to make sense of the idea that teachers shouldn't be required to teach standards. What, exactly, are we hiring teachers for if not to teach specific content?
To wax metaphysical, though, note that the Common Core standards – like all previous standards – are in fact completely voluntary for all teachers. After all, any teacher who would prefer not to teach the CCSS is entirely free not to accept a job that requires them to teach the CCSS.
When teachers insist that you should "just let us teach" or complain that we "shouldn't be forced to do X", what they sometimes mean is that we should grant them the affirmative right to get hired for a job with a different description. That's a very different, substantially less-plausible meaning.
Of course, in some cases teacher autonomy is a good thing. Teachers are often best-positioned to make decisions about what their students need or are able to do, for example.
But these are utilitarian considerations; there is no a priori point of principle about whether teachers "should" be "free" to make decisions about what their job entails because everybody is free not to teach in the first place. It's entirely conceivable, for instance, that our education system would be better on balance if the Common Core standards were repealed or replaced, but the standards are still voluntary for teachers to the extent that nobody is legally required to be a teacher.
This isn't a major issue in education debates, but every once in a while teachers can't resist the urge to adopt the appealing rhetoric of "freedom" even though "freedom" is a morally-loaded concept only tangentially related to most educational issues.