I missed this when it first came out, but back in October StudentsFirst apparently released a report called A Personalized Future for Education. If you cut through the platitudes about "teaching with a 19th century model" designed for the needs of an "industrial-based economy", the report's core recommendations are not obviously unreasonable:
Personalized learning is a student-centered approach to education that allows each student to advance through academic content at his or her own pace. In a personalized model, also known as a competency-based education (CBE), time is the variable and learning is the constant, so a student's competency is prioritized over his or her age. Personalized learning removes the one-size-fits-all approach to education by offering an array of choices and content to every student at a pace that meets his or her specific learning needs.

According to CompetencyWorks, a leading collaborative initiative that works to provide information and knowledge about CBE, there are five components of CBE:

1. Students advance upon mastery;
2. Competencies include explicit, measureable, transferable objectives that empower students;
3. Assessment is meaningful and a positive learning experience for students;
4. Students receive timely, differentiated support based on their individual needs; and
5. Learning outcomes emphasize competencies that include application and creation of knowledge along with the development of important skills and dispositions.
There's nothing really revolutionary here; many of these things have gone on to one degree or another for a long time under other names (e.g., "tracking"). Strictly implementing this sort of "competency-based education" on a large scale would entail many substantial changes, but teachers, schools, and districts strive for imperfect approximations of these recommendations all the time.
Of course, the report is also peppered with StudentsFirst's standard recommendations about things like choice for students and parents and accountability for teachers and schools. What's really striking, though, is how uncomfortably the CBE proposals fit within StudentsFirst's broader war against achievement gaps and "excuses".
To see why I'm surprised to see StudentsFirst endorse the CBE model, it's helpful to start with the group's mission statement, which includes this:
Inside our schools, a great teacher is the single most important factor in a child's education. While there are many factors that influence a student's opportunity to learn, a great teacher can help any student overcome those barriers and realize their full potential. For this reason, we believe in doing everything we can to make sure teachers are supported and all schools are able to hire and retain the best teachers possible.
That's a bit difficult to parse – just try to articulate StudentsFirst's position on the importance of out-of-school "factors that influence a student's opportunity to learn" – but I think it's fair to say that this is the premise that motivates their side of the teacher quality/"poverty is not an excuse" debates. On StudentsFirst's account it shouldn't matter whether there are various, school-independent "barriers" to "a student's opportunity to learn": the point of education reform is to enable schools to "overcome those barriers".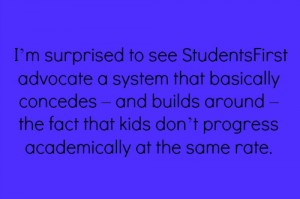 As far as I can tell, the StudentsFirst position has consistently been that if identifiable groups of students are consistently under-performing relative to their peers, that can be viewed as a sign of educational failure. After all, if teachers and schools are "overcoming" students' various barriers, students should be progressing academically at relatively constant rates across populations.
Now let's return to their competency-based education report, which includes this passage on the role of competency in education:
Grade-level promotion has historically been dictated by students' age and attendance. This system of promotion takes a one-size-fits-all approach to education, and typically serves students in the middle of the class; students who need additional review end up being moved along before they're ready, while students who have already achieved mastery on the given topic are prevented from moving ahead and often end up bored and disengaged. This model is problematic because it does not meet the individual needs of each student and may actually contribute to a gap in achievement between students.

The good news is that personalized learning provides educators with an alternative – an alternative that is already in high demand. Personalized learning allows students to learn at their own pace, advancing only when they achieve competency and mastery of the material. A student will spend as much time as they need to gain competency. If the student falls too far behind, educators can leverage data about where the student is and target additional supports to help him or her catch up. Additionally, personalized learning adapts to situations where a student is ahead in one subject and behind in another. This means that students are provided with an education that is custom-made for them based on academic needs, not age or seat time requirements completely unrelated to learning.
Emphasis added.
All of that sounds plausible enough to me, but as far as I can tell it completely cuts against (what I think of as) the standard StudentsFirst line, which is that the point of school reform is precisely to make sure that non-school factors aren't slowing kids down academically. So I'm surprised to see StudentsFirst advocate a system that basically concedes – and builds around – the fact that kids don't progress academically at the same rate.
Am I missing something here?