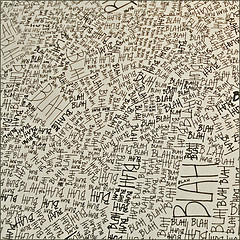 One of my favorite things I've ever written was my post at the end of 2012 about "meaningless education phrases". A strong contender for the top spot on that list was "student-centered", and this video captures the reasons perfectly:
Ostensibly, the point of the video is to answer the question "What is student-centered learning?", but the definition seems to include almost anything.  Here's a transcript of the relevant portions:
We think that student-centered approaches to learning that are more tailored, more customized, more real-world, more authentic, we're engaging technology well, where students are moving at their own pace, we're really focused on whether they achieve skills and knowledge and then we move them on to the next experience. These complicated projects where students are working together on really learning and applying their knowledge in complex important ways…

…

If we had an education system that was aligned with what we know about how people learn, what we know about how youth develop, what we know about how to remediate and accelerate learning for learners who are too far behind, those are student-centered approaches, and we want to maximize them more. More direct, focused attention when it's needed. More independent learning when it's viable. Small group learning focused on shared needs. But not large-group instruction that involves a wide range of learners, none of whom are going to benefit. So we just need to move off of batch processing to more customized approaches, and we think that's a way to address the gaps…Differentiated educational opportunities to meet differentiated need.
Forget which of these suggestions you find agreeable and ask yourself: according to this description, what exactly is "student-centered learning"? Is it differentiated? Mastery-based? Project-based? High tech? Students are "moving at their own pace", but we're also tracking them and providing them with remediation when they're going too slowly (i.e., "when it's needed")?
Fortunately, the speaker eventually decides that rather than list all the practices that are student-centered, it'll be easier to just list the things that aren't: "large-group instruction" and "batch processing".
So once more, with feeling:  almost all educational practices are student-centered because almost all educational practices are intended to help students learn something.
This means that trying to distinguish educational practices based on their "student-centeredness" will only confuse us as we discover that almost all of them can be described that way.  And in the confusion we will likely lose sight of what really matters: effectiveness.