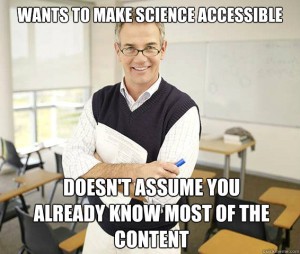 I'm obviously no fan of the Next Generation Science Standards. Still, it's conceivable that they could be good for some students while being bad on the whole. I'm skeptical, but it's not out of the question.
And if you were to force me to speculate about which group of students the NGSS are most "tailored to", I'd have to say, "the most academically advanced students". The top, say, 15% of science students.
I'm by no means sure these students would be better off under the NGSS (the weaknesses of which are quite severe). Still, it's not impossible to imagine that they might be. The most advanced students may possess enough prior background knowledge to "fill in the gaps" of the standards, for example, and their breadth of knowledge may allow them to apply the more abstract "practices" across a variety of contexts in the way the standards envision.
Advanced students might therefore be the most likely to thrive under the NGSS, even if it's not totally obvious that they'd accelerate.
So imagine my surprise when Lesli Maxwell reported that the NGSS purport to support "diverse" – i.e., academically vulnerable – students:
Now, three years later, their notion—that every student should get a deep, rigorous science education that would prepare them for demanding coursework, a college degree in the sciences, and a career that could follow—has helped produce a set of standards meant for the most-advanced science students, as well as students who previously may have been steered away from taking a science class, writers of the standards said.

Teachers and advocates for these "diverse" learners said the standards and the supporting documents that accompany them offer an unprecedented opportunity to push a far broader array of students into the science, technology, engineering, and mathematics career pipeline.
That all sounds good! Unfortunately, the specifics are not encouraging. The examples of inclusive design the NGSS authors provide are unlikely to help the weakest students very much, and they certainly do not adequately compensate for fundamental weaknesses in the design of the standards.
Consider the way the NGSS authors claim to have made the language of the standards inclusive:
The Next Generation Science Standards—through the work of a diversity and equity team composed mostly of classroom teachers—went through extensive bias and sensitivity reviews to make sure the standards didn't include language with multiple meanings, like "draw on evidence," that might confuse students still learning English, for example.
"Draw on evidence" is, in fact, a vague and confusing phrase. Sadly, the final standards document is nevertheless riddled with equally confusing phrases. It contains, for instance, 456 uses of the word "model", which is almost never defined despite being a term with "multiple meanings" (only some of which are even related to science).
Similarly, "use evidence" is a better phrasing than "draw on evidence", but "use evidence to construct an explanation" incorporates additional ambiguous language that is likely to confuse a great many 4th graders whether or not they're English learners.
The authors also point to Appendix D as a resource for making the NGSS "accessible to all students". It is too long of a document to explore in detail at the moment. It will suffice for now to say two things about it.
First, much of what it consists of is teaching tips for vulnerable populations of students that are standards-independent.
Second, it overestimates the extent to which the NGSS incorporate what we know about the learning needs of struggling students. Making "implied background knowledge…explicit" is definitely important for "less privileged students", for example, but the NGSS do that very poorly. Saying "X is important for vulnerable students" is no substitute for providing those students with X.
I do not doubt that all of these inclusionary efforts were a "major undertaking". They are nevertheless not up to the task of compensating for the considerable weaknesses of the core standards document.
And that core document is particularly bad for these vulnerable populations. It omits altogether much factual knowledge that the least-privileged students will not otherwise acquire. Much of the content that remains is implicit and will therefore elude students who do not already possess it. As a result, these students will struggle to engage successfully in the scientific practices the standards emphasize. The vague and ambiguous language in the practice standards will confuse students with limited vocabularies. And so on.
The authors are wise to recognize the challenges inherent in "raising standards" while worrying about achievement gaps. The particular weaknesses of the Next Generation Science Standards, however, only exacerbate that tension.