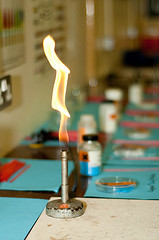 I'm not sure how much of an impact this will have on states going forward, but Fordham's final evaluation of the Next Generation Science Standards is out and the bottom line is that the NGSS are pretty mediocre. The whole report is readable, but you can get the main ideas from the document's extra-readable forward. The authors identify five major flaws in the standards:
Too much "missing and 'implicit' content".

Included "assessment boundaries" unnecessarily limit the scope of course content.
The "failure to include essential math content".
Inadequate preparation for college-level STEM coursework.
An overemphasis on scientific "practices" at the expense of scientific knowledge.
I'd say numbers 1, 3, 4, & 5 are serious; #2 less so. It's not obvious to me that the assessment boundaries limit potential instruction any more than do other explicit content standards.
The way I'd put it is that the assessment boundaries are just a symptom of the standards' most serious underlying problem: they're too vague. If the NGSS weren't so unclear, the authors probably wouldn't have felt the need to try to clarify them by appending boundary statements to them.
That's obviously a silly way to satisfy the demand for clarity and specificity. The boundary statements are really just a clumsy attempt to incorporate content that should have been included in the basic standards statements. (Why they felt the need to write so many of the boundary statements "negatively" – in terms of what knowledge won't be assessed, rather than what will – is a mystery to me.)
My personal favorite bit from the report comes on page 38 as the authors evaluate the "content strengths" of  the NGSS high school physics standards. As they succinctly put it:  "We cannot discourse on the strengths of material that is absent."
The authors conclude that while the NGSS are markedly inferior to existing standards in 12 states (and D.C.), they are clearly better than standards in 16 other states. (It is difficult for me to imagine how bad, say, North Dakota's standards must be.)
So should those 16 states adopt the NGSS? Probably not. If you're going to go to the trouble of adopting entirely new science standards, why not adopt some of the best existing state standards? There's no need to settle for the NGSS when superior alternatives are available.