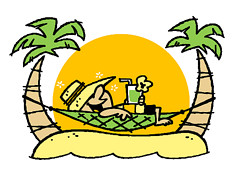 Choice Media is reporting that teachers in Asbury Park, NJ averaged 18 sick days each in 2011-2012. Their data and report are a little ambiguous – it's hard to tell whether those numbers also include personal days and they might be conflating "costs of substitutes for sick teachers" with "costs of substitutes overall" – but it's a big number in any case. Eighteen days is 10% of a typical school year and is probably too many days for teachers to be missing even for all reasons combined.
The intended implication of the report is that teachers in Asbury Park are abusing their sick days, and that is probably true as well. And not just in Asbury Park. What teachers refer to – with tongue in cheek – as the "mental health day" is one of the worst kept secrets in district human resources. And as Choice Media points out there's evidence that teachers are disproportionately likely to call in sick on Monday or Friday.
So while some teachers legitimately need the time off for illness, sick day abuse is probably real. I just don't understand why.
I'm a teacher and I hate missing work. In fact, I'd go so far as to say that missing work is more of a pain than being at work.
Missing school as a teacher involves roughly the same amount of work as being at school only with a lot more uncertainty because you're not there to manage it all.
Substitutes still need lesson plans, seating charts, and materials. Students are still going to need to be held accountable for their work and behavior when you get back, both of which often tend to be messier with a substitute. It also disrupts class pacing in an already-tight curricular calendar.
Calling in sick doesn't save me time or effort, and I spend a lot of the time I'm not at work thinking about what's happening there or about what I'll have to do when I get back.
As a result, in four years of teaching I've called in sick only twice.*
So I don't get it. Who are these teachers who are calling in sick just to take a break? Do they have vastly more stressful workplace environments? Or are they just more indifferent than I am when it comes to planning for and dealing with substitutes?
*By my quick count I've needed a substitute teacher to cover my class on 13 days total: 2 sick days, 1 personal day, 1 field trip, 3 days of jury duty, and 6 days of mandatory PD or staff meetings.