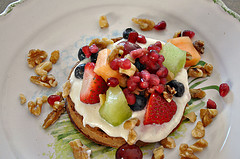 It looks like Los Angeles Unified is going to continue providing universal free breakfast to students in the classroom despite strong objections from teachers who find distributing breakfast to be a hassle and a time-sink.
Having provided breakfast in the classroom before I agree that it's a big pain but universal breakfast is a great idea and the classroom is the best place to do it than I'd be willing to bite the bullet. I'm not totally clear why they don't just serve breakfast in the cafeteria, though, like we did back in Oakland.
The district insists that student participation rates are too low when breakfast is served in the cafeteria: 29% compared to 89% in the classroom.
I'm a little suspicious of that 89% figure – when I hand a kid breakfast in the classroom, that by no means implies she ends up eating it – but even if we assume it's accurate I haven't heard anybody explain why the solution isn't just to try to raise cafeteria participation rates.
I'm not sure what it would take to raise those rates, and maybe it would turn out to be completely unfeasible. (Would it be that much different than providing lunch?) Still, everybody seems to agree that serving breakfast in the classroom presents all sorts of serious problems and the district seems happy to hand-wave those away as kinks to be worked out going forward.
Maybe there's no good way to raise breakfast participation rates in the cafeteria, and maybe LAUSD will manage to smooth out the logistical problems with serving meals in the classroom. I just haven't heard much about either of those possibilities.