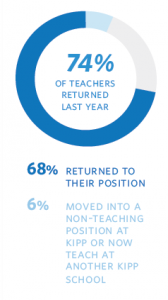 I see that KIPP is out with its annual report card about…itself. (It's an easy idea to mock, and I wouldn't take their self-analysis as gospel, but good for them for making the effort.)
I haven't read it all the way through, but something that jumped out at me immediately was the chart you see on the right (from pg. 22), since charter school teacher turnover is a topic people love to argue about.
In other words, 32% – about 1/3 – of KIPP teachers left their teaching position last year. How does that compare to nationwide trends?
Nationwide, the proportion of teachers leaving their position from year to year is about 16%. (That number is from 2009; I didn't see anything more recent.)
KIPP teachers apparently leave at about twice the rate of teachers elsewhere.
I actually like a lot about the KIPP model and I don't think this is a knock-down argument against what they do. It's clear, however, that even by its own measures KIPP has a teacher turnover problem.